There isn't a photographer alive who would have trouble finding a great spot for photos at this venue. Ball's Falls, part of the Niagara Peninsula Conservation Authority, provides one of the most diverse and flexible locations in terms of style, lighting, and privacy. Any photographer would be delighted to cover a wedding here—myself included. When planning your wedding, there are several outdoor ceremony locations available. Below I highlight four of the most popular on-site ceremony locations and review what I think are the greatest strengths and weaknesses of Ball's Falls as a wedding venue. If you have already booked your wedding at Ball's Falls or would just like to chat more about your options, get in touch with me.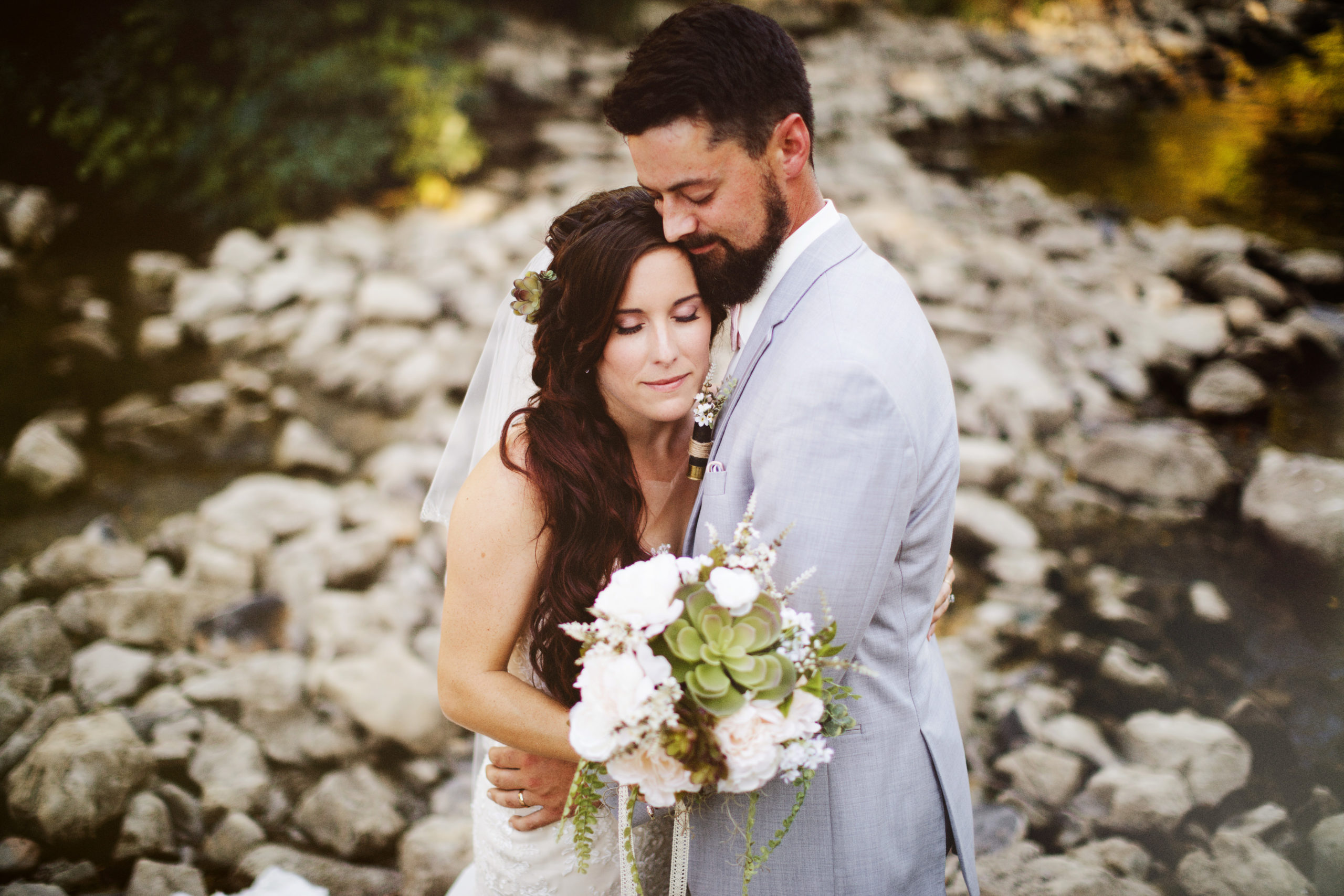 Summary
Pros
Tonnes of locations
Quaint 1800s era chapel on site (additional fee)
Relatively low price (as of 2020, about $4500 gives you access to everything on site)
Short drive to wine country
Closer to Toronto than Niagara-on-the-Lake, with easy access to the QEW
Super flexible for weddings of any style
On-site Bridal Suite
Large property
You are unlikely to cross paths with another wedding
Barn is huge and can accommodate intimate or very large weddings up to 190 guests
Free parking
Cons
Little in the way of rainy day locations unless you booked the big barn or the chapel
It is an outdoor location so wear bug spray (and be prepared to take them out of your wine glasses)
Big barn not available in winter
Bathrooms are a short walk (in the dark) away
Bridal suite is available for only one wedding per day
Cost
Probably the first thing on any bride's mind is the cost of selecting the ideal venue. As far as prices go, I believe Ball's Falls is reasonably priced given what you get in return. If you want the full Ball's Falls experience including the little white chapel (see below), the big barn reception (or the Elgin Hall), and the on-site bridal suite, plus access to all the beautiful grounds and natural areas, it will cost $4500. If you are hosting your reception at another venue in Niagara and you want only the little chapel for your ceremony, that will be just $850. Then you can still take advantage of all the beautiful surroundings Ball's Falls has to offer. Of course, always check directly with the NPCA to confirm prices as these are always subject to change. The bottom line is that you don't need to spend exorbitant amounts of money to have a beautiful wedding day.

….but that doesn't mean you won't feel rich!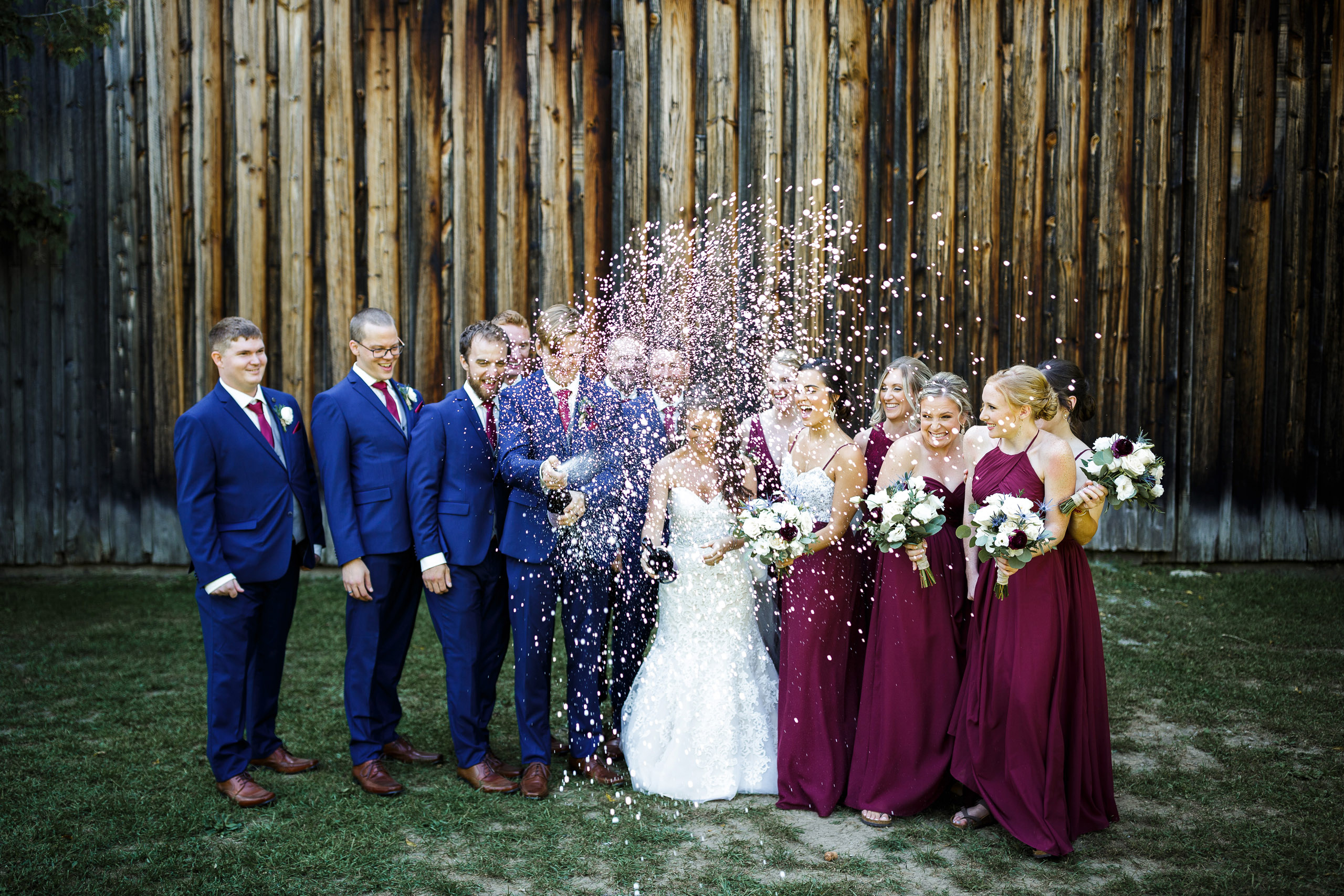 The Bridal Suite
It's always nice to have a place to relax and get ready before your wedding (or cool off with the newly installed central air). It's even better if you don't have to worry about transport or traffic on your way to your ceremony location. It's a beautiful large room with light walls and big windows, which makes it easy to photograph. Along with a gorgeous full length mirror, the old wooden textures on the walls, floors, and stairs make it a rustic location for bridal prep. The room is big enough to accommodate larger bridal parties (and there are TWO bathrooms available in the building). You will have key access to it all day including into the reception hours. So you can use it as a place to escape for some quiet time if needed.
You have to be booked at Ball's Falls in order to have access to the suite. However, given that two full wedding days may take place at Ball's Falls on the same day, the bridal suite is booked on a first-come first-serve basis. So you need to be quick. I recommending booking it because it removes some uncertainty about transportation but also because it is a beautiful place to get ready that fits well with the overall aesthetic of Ball's Falls.
As of 2020, it costs $375 to book the bridal suite. Always confirm rates as they may be subject to change.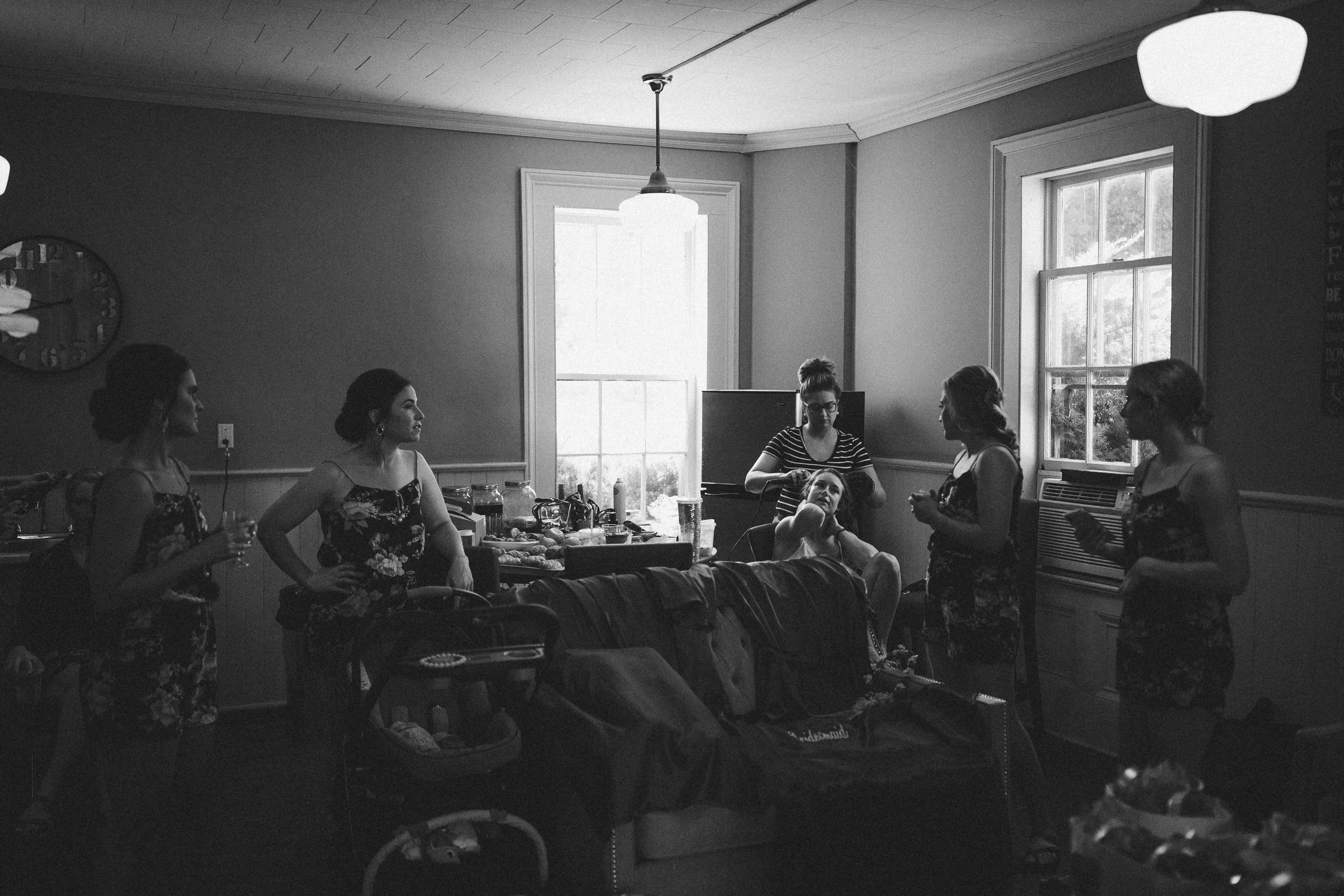 Ceremony Locations at Ball's Falls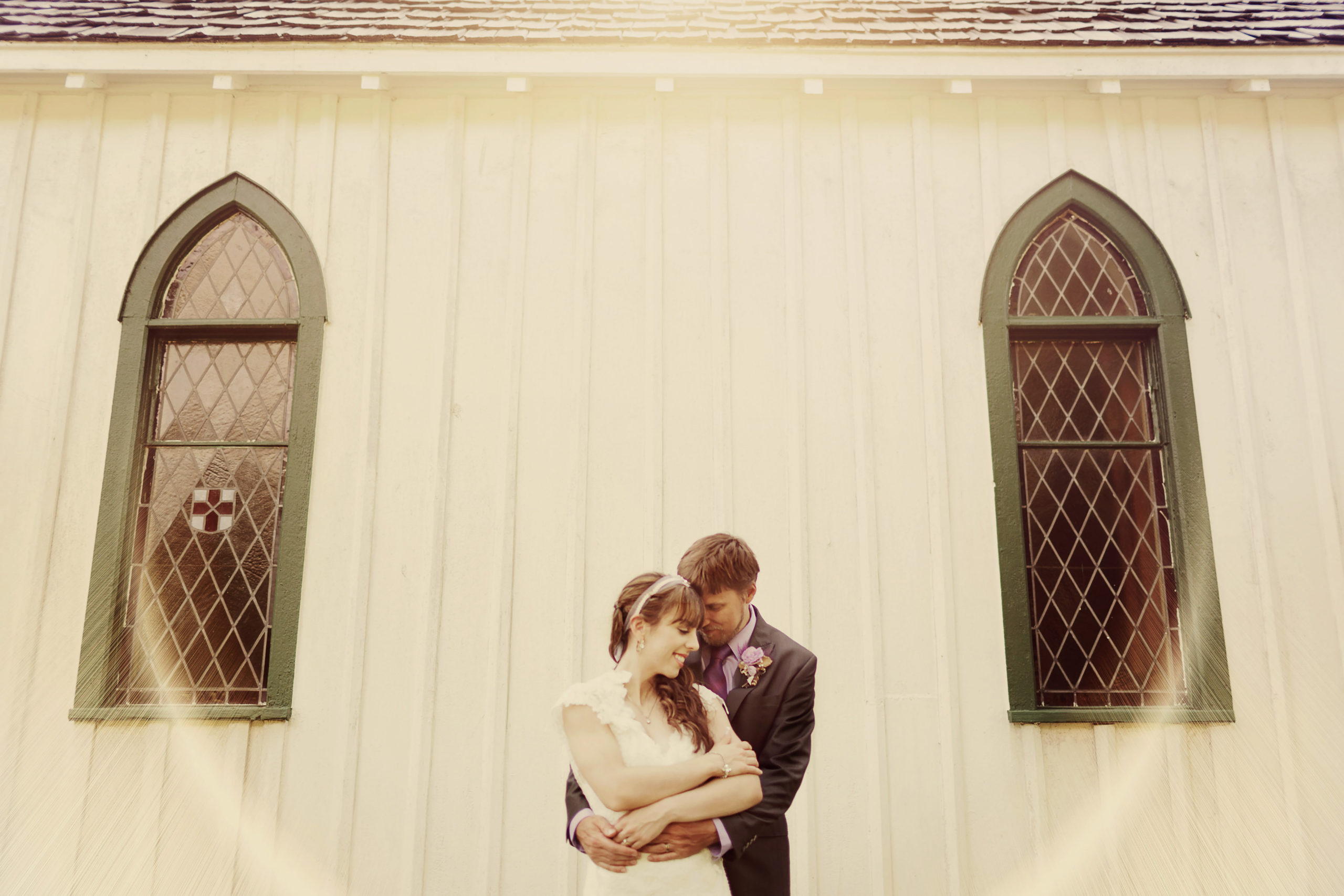 First is the little white wedding chapel which is perfect for smaller ceremonies—it's capacity is 110 (some guests may need to stand). If you have a large wedding party, they will be stuffed in very tight. NEW: As of 2020, the chapel is air conditioned! It used to get unbearably hot during the summer, but is now definitely worth considering for any season. All the walls inside are white which makes natural light photography a breeze. I never need to use flash to light up the ceremony which is great because flash can be very distracting for your guests. On the way out of the chapel, pull the rope and ring the bell!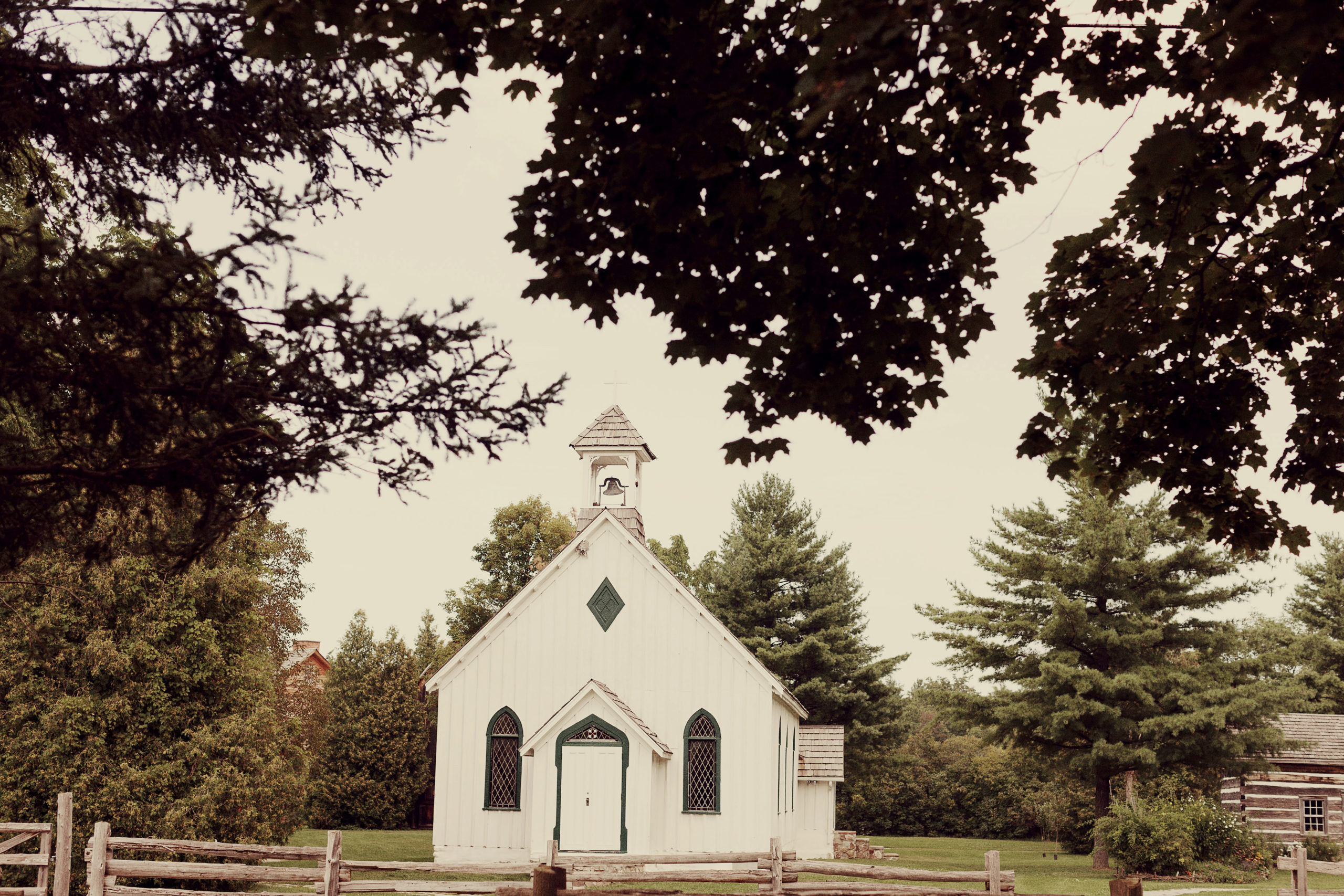 Your second option is the forest location. This is on a grassy area at the edge of the forest not far from the "Big Barn". Time it right, and the sun will peek through the leaves behind you as your say your vows. If you're a fan of the outdoors, this is your location. In terms of photography, this is in an ideal spot for light. Nestled in the trees, and situated at the proper angle, you and your wedding party will look great in photographs. Sure, some your guests may have to squint a little, but it will be worth it–and you can always hand out parasols to those who need some personal shade.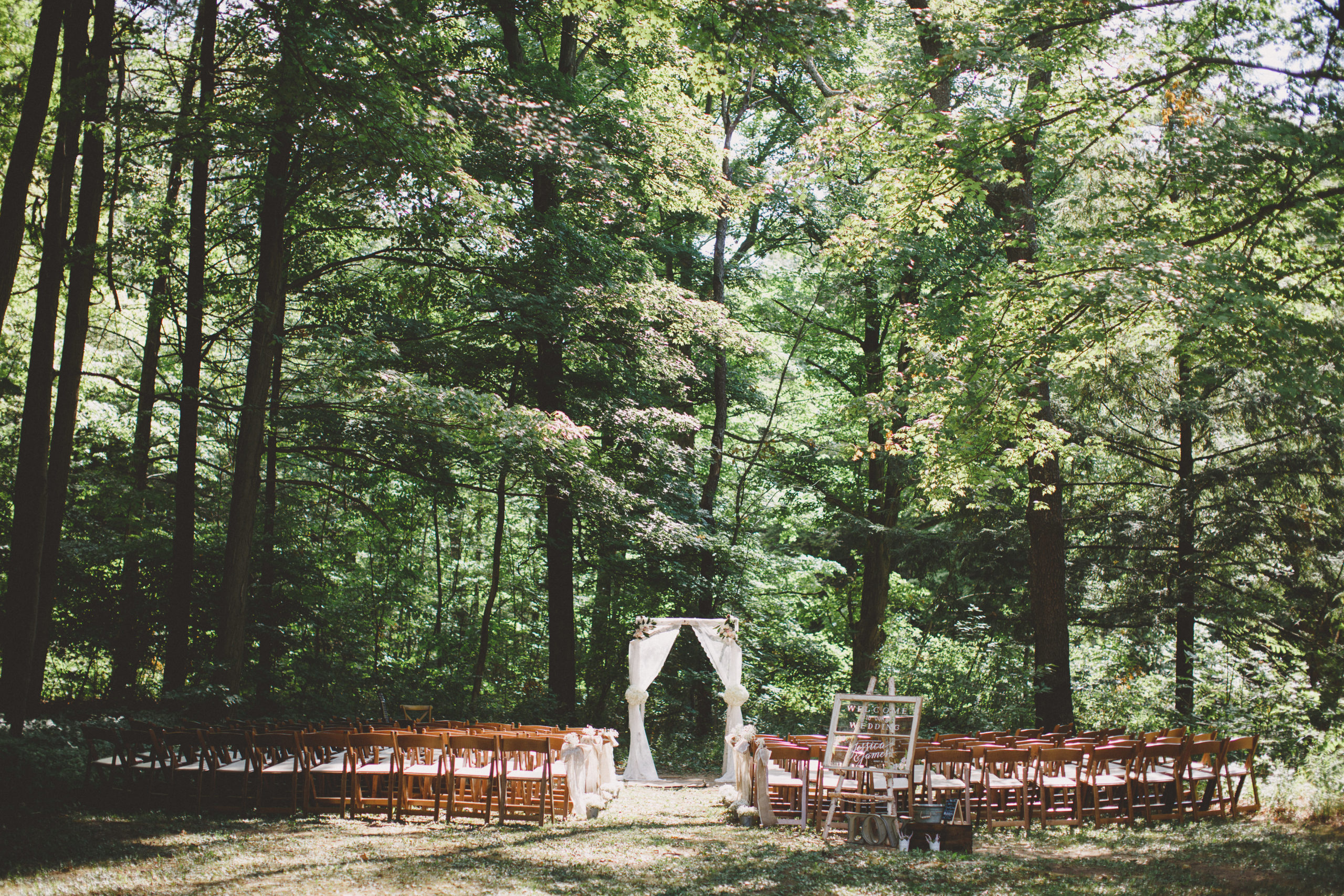 The third (outdoor) location is in the large field just before the start of the forest. Here, the river runs directly behind where you and the wedding party would stand. If there is water running in the river, you will hear it during your ceremony. Again, the backdrop will be large trees. One risk with this location is that it can be sunny which means it could get really hot during the summer months. Ball's Falls will soon be installing a full size arch for outdoor ceremonies here.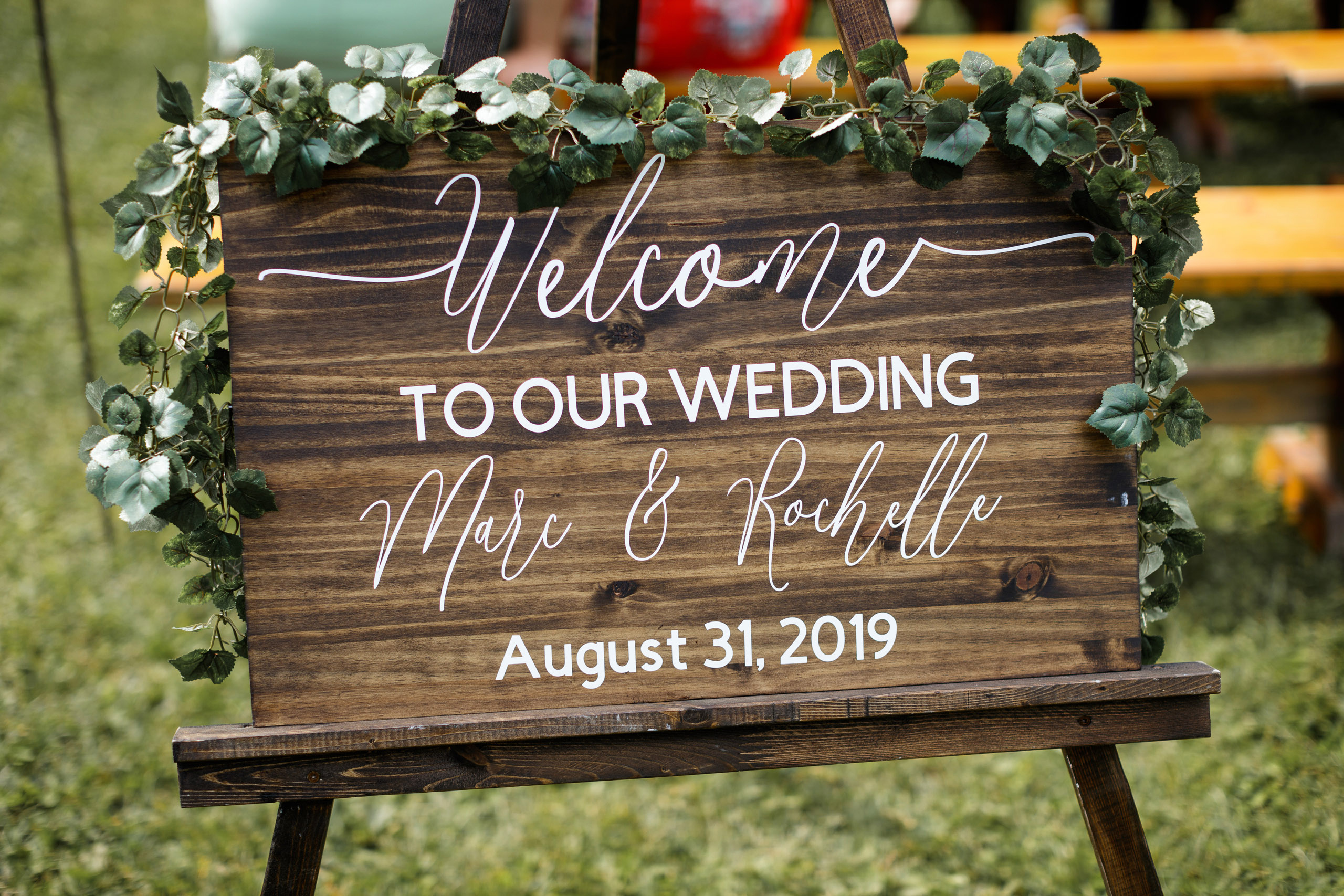 The fourth primary option for ceremony locations is the big barn itself. The barn is typically used for receptions, but you can also re-arrange for the ceremony too. This is an excellent backup plan in case of rain. If you don't have a lot of guests and don't need a lot of room to setup for the reception, there is plenty of space in the big barn to host the ceremony with the reception tables and chairs pushed to one end of the barn. If it is raining outside, there will be heavy cloud cover. There aren't many windows in this barn, so it can be a little bit dark. If you don't already have some some lights for illuminating the space, make sure you allow me some time in your schedule for me to arrange my own lighting setup. The warm natural woods make this large space feel cozy if a little challenging to light — but totally worth it. Below are some photos of a ceremony that took place inside the big barn.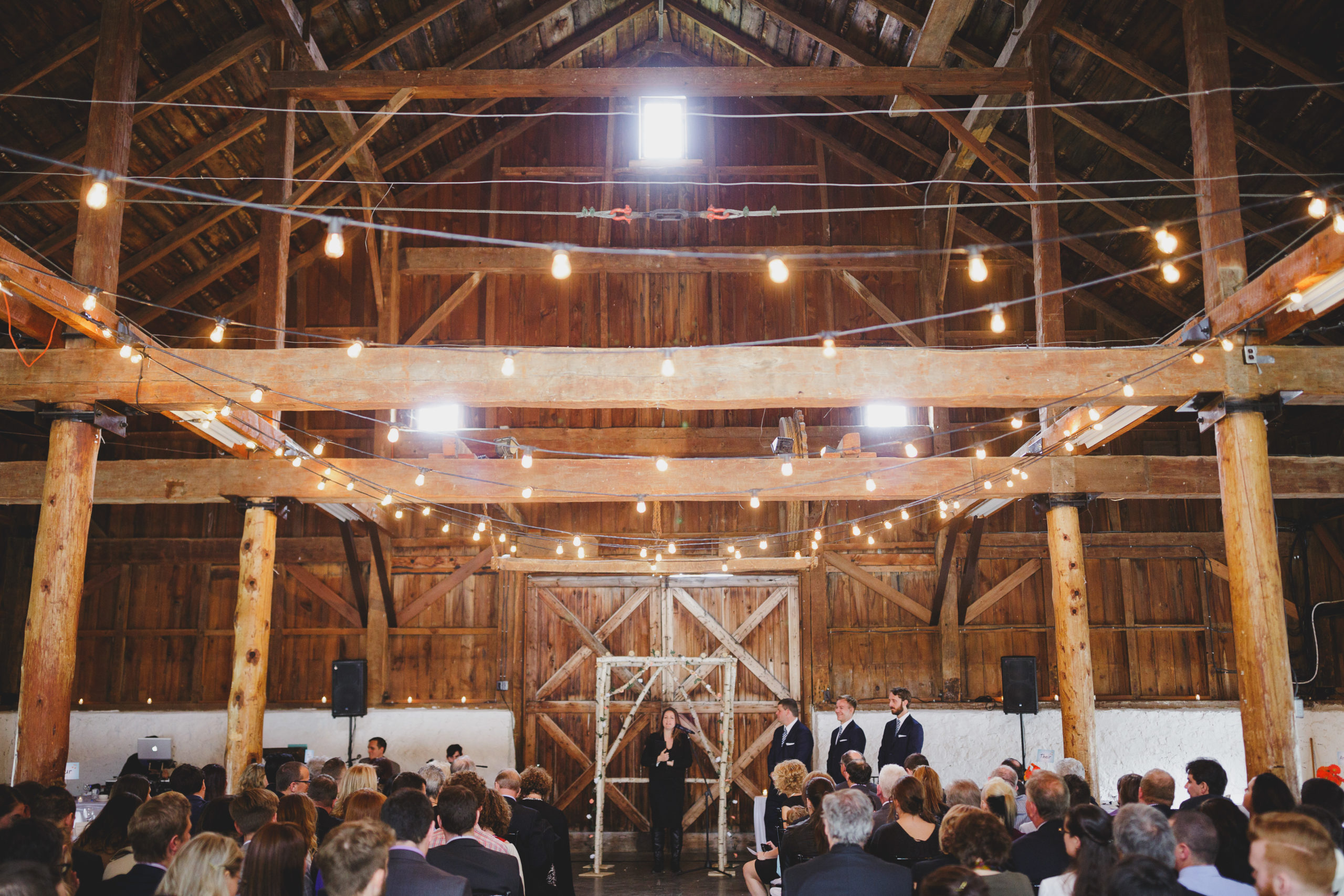 Wedding Styles best suited to Ball's Falls
One of the best reasons to book Ball's Falls for your wedding is that you can personalize the venue in any way you like. I've seen classic weddings, rustic weddings, vintage barn weddings, and even a rock'n'roll style wedding. The forest around Ball's Falls and the "big barn" lend themselves to anything you can think of—rustic to traditional.
In this way, I can approach your day in a way that be suits your goals. I can work towards a classic/fairytale style or I can lean the style more towards photojournalism or fine art. Below are some examples of how differences in approach can produce visually distinct imagery all at the same location.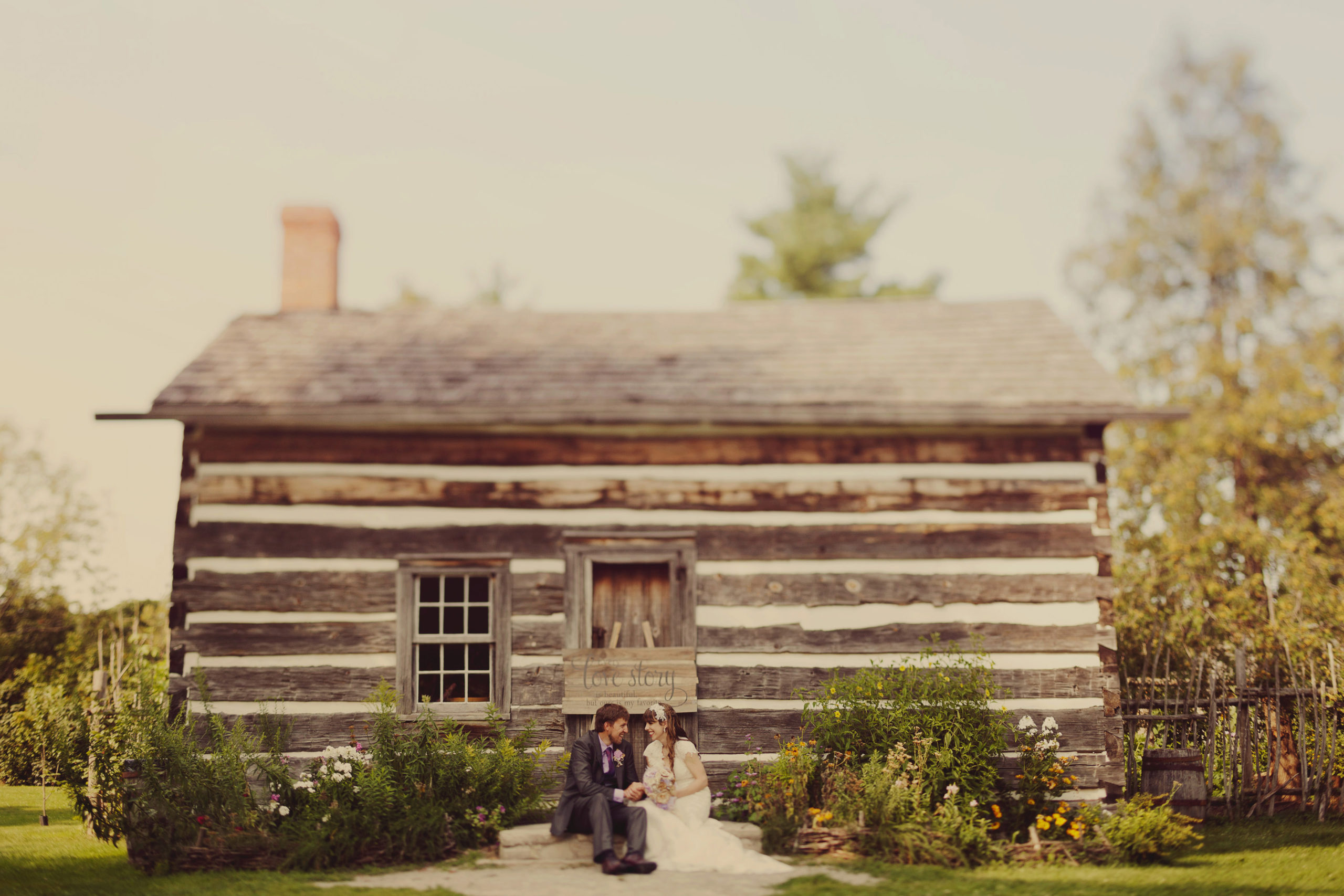 How big a wedding can Ball's Falls accommodate?
Given the size of the outdoor space and the big barn, it would feel a bit empty for a small wedding of 50 or fewer guests. My recommendation for hosting a reception at Ball's Falls would be for larger weddings of at least 100 guests. The site can accommodate groups up to 190. But remember, even if you rent only the chapel for your ceremony, you can still take advantage of all the natural beauty of Ball's Falls with your smaller wedding group. Whether you have a large or small wedding party, the grounds surrounding the barn make it easy to fit and coordinate wedding parties of any size!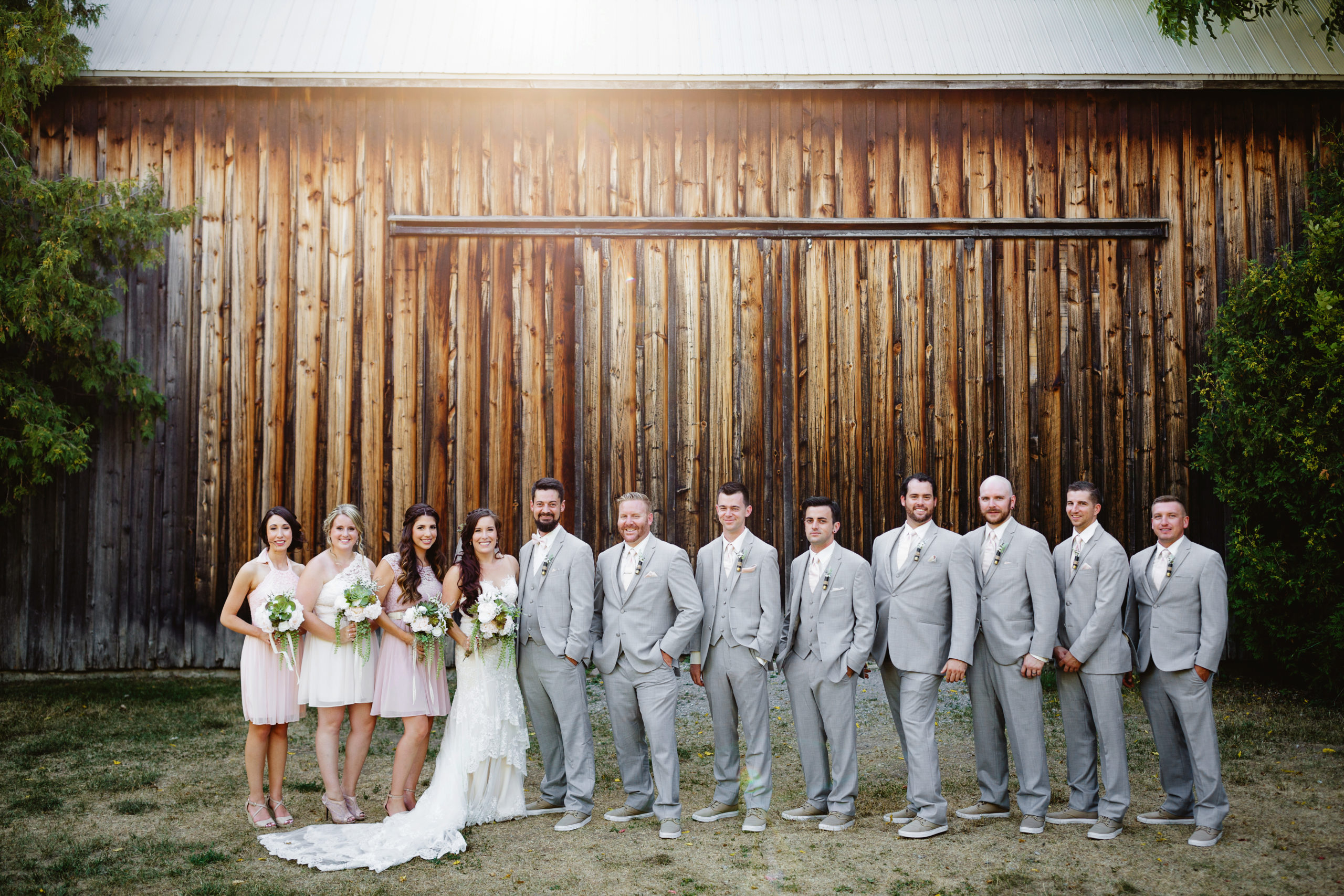 How many weddings does Ball's Falls accept?
The reason Ball's Falls books up so fast is that there is room for only one or two weddings in a day. And only one wedding reception per day in the Big Barn and one wedding reception per day in the Elgin Room. At some venues, there are so many weddings occurring simultaneously that it can be difficult for your guests to find your wedding. Plus, you might get some wedding crashers at your own! At Ball's Falls, the only wedding crasher you might get is a racoon. This also makes it easy to find a private spot for some photos–without having to schedule a time at a given venue feature. This kind of flexibility is always welcome and helps your day unfold more organically. I'm happy to help with scheduling to take advantage of the best available light on your specific date (send me an email to get started).

It will feel like it's just the two of you.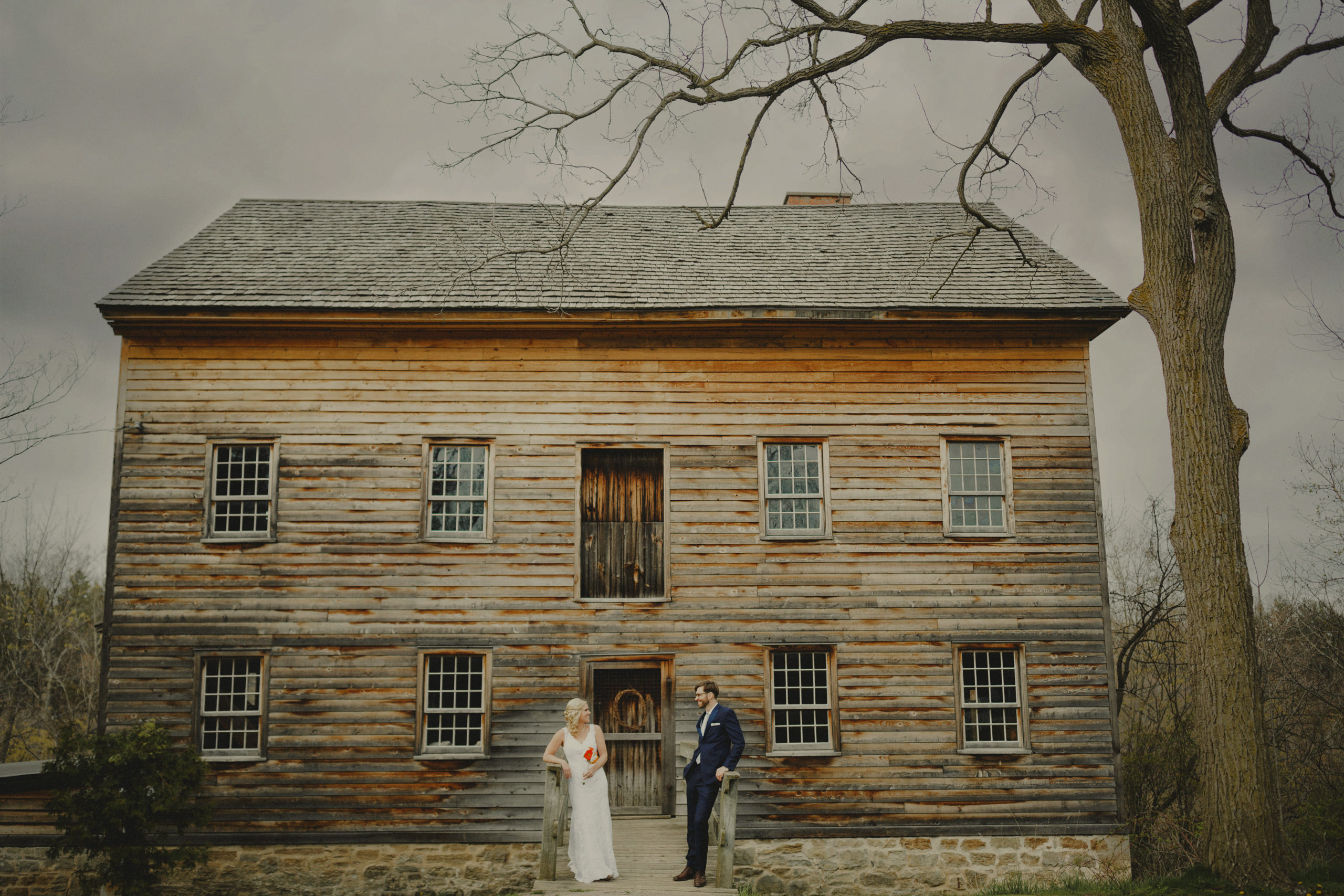 Photo Locations at Ball's Falls
So many great photo locations are on site that are all part of your venue….the church, field, forest, hills, old buildings, river, waterfalls…all within walking distance of the barn. This gives you nearly infinite options for photo locations but also affords you some privacy during your portrait time. Walking just five minutes away will add enough distance between you and any well-wishing gawkers. Your guests could also take a quiet walk in the evening to get away from the loudness of the reception party. Whether its along the river, into the herb garden, or just to the back of their car (in a dimly lit parking lot), it's all on site. You can invite your guests to play some lawn games while you sneak away for some photos.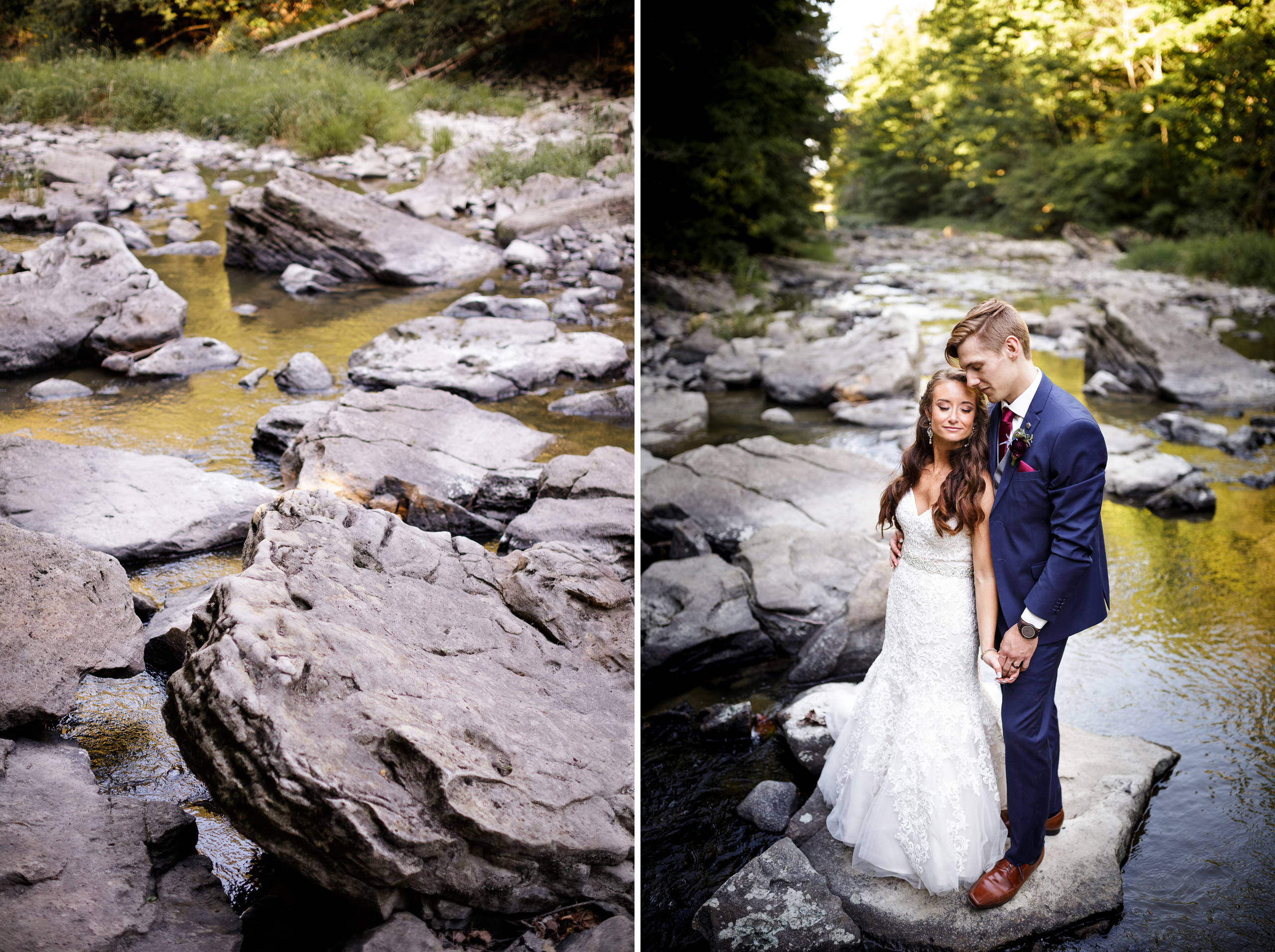 Any negatives to hosting my wedding at Ball's Falls?
One potentially major catch that may change the minds of some brides is that you will need to bring in everything you need for your wedding. Ball's Falls does not provide tables, chairs, food, etc. But assuming you've hired the right décor team or wedding planner, you will not even notice.
Bathrooms are also located at the opposite end of the parking lot away from the barn. The walk will take about 90 seconds early in the reception or about 3 minutes as the night wears on, so if it's raining, you will want to make sure you have umbrellas handy for your guests.
You will also need to clean up after yourself at the end of what will have been one of the longest days. Be sure you have some friends/family willing to stick around after the party is over to help with the clean up effort. You really do need to take everything with you or you may be charged an additional fee.
Receptions in the Big Barn at Ball's Falls
Let yourself and your guests dance and party with you into the night. On a hot summer night, enjoy a walk under the stars and listen to the distant din of all your friends and family celebrating one of the biggest moments in your life. I can't wait to spend another amazing day at Ball's Falls!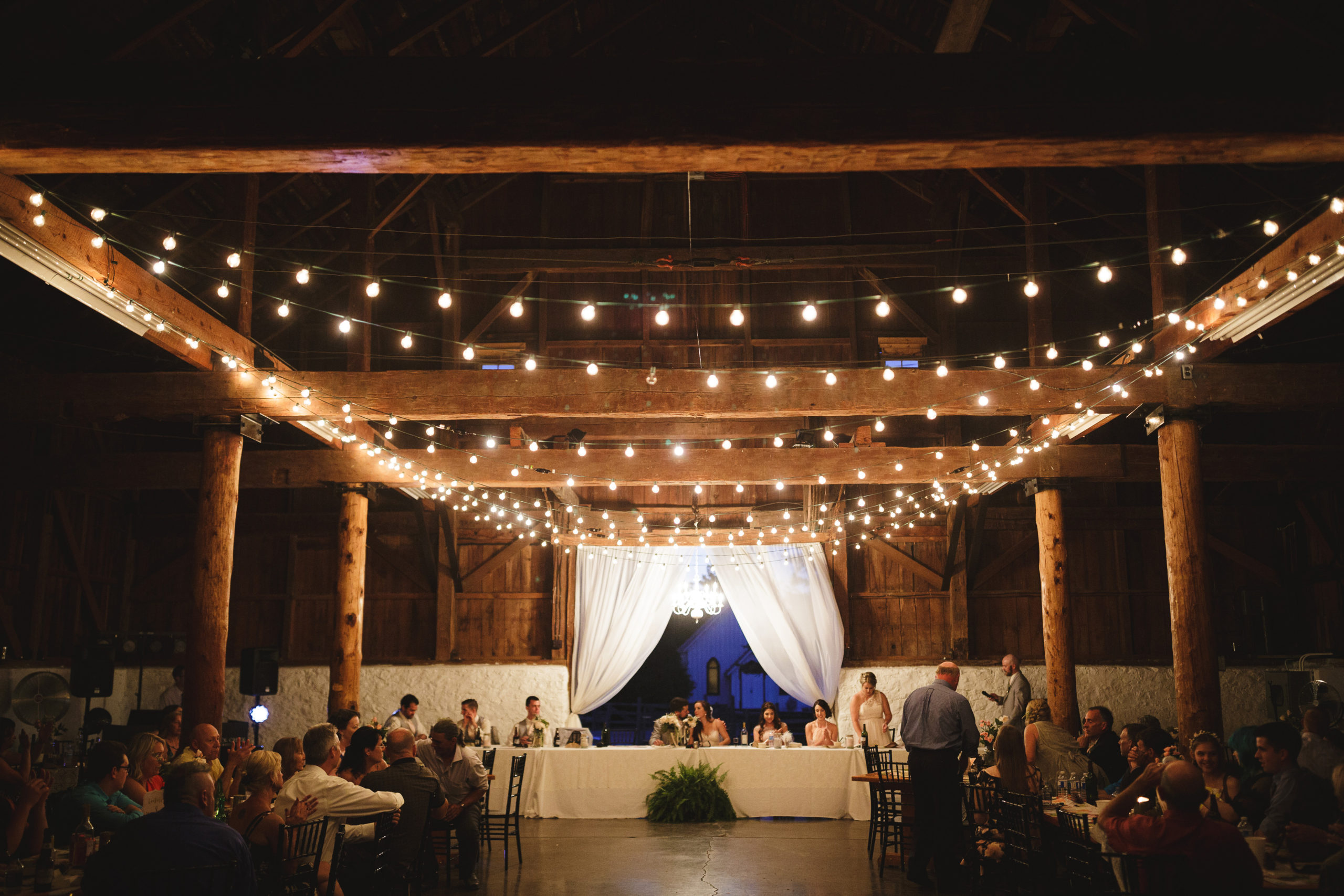 Don't forget to look up!
At the right time, you can capture a quiet moment away from the party for a quick (or slow) kiss under the big dipper.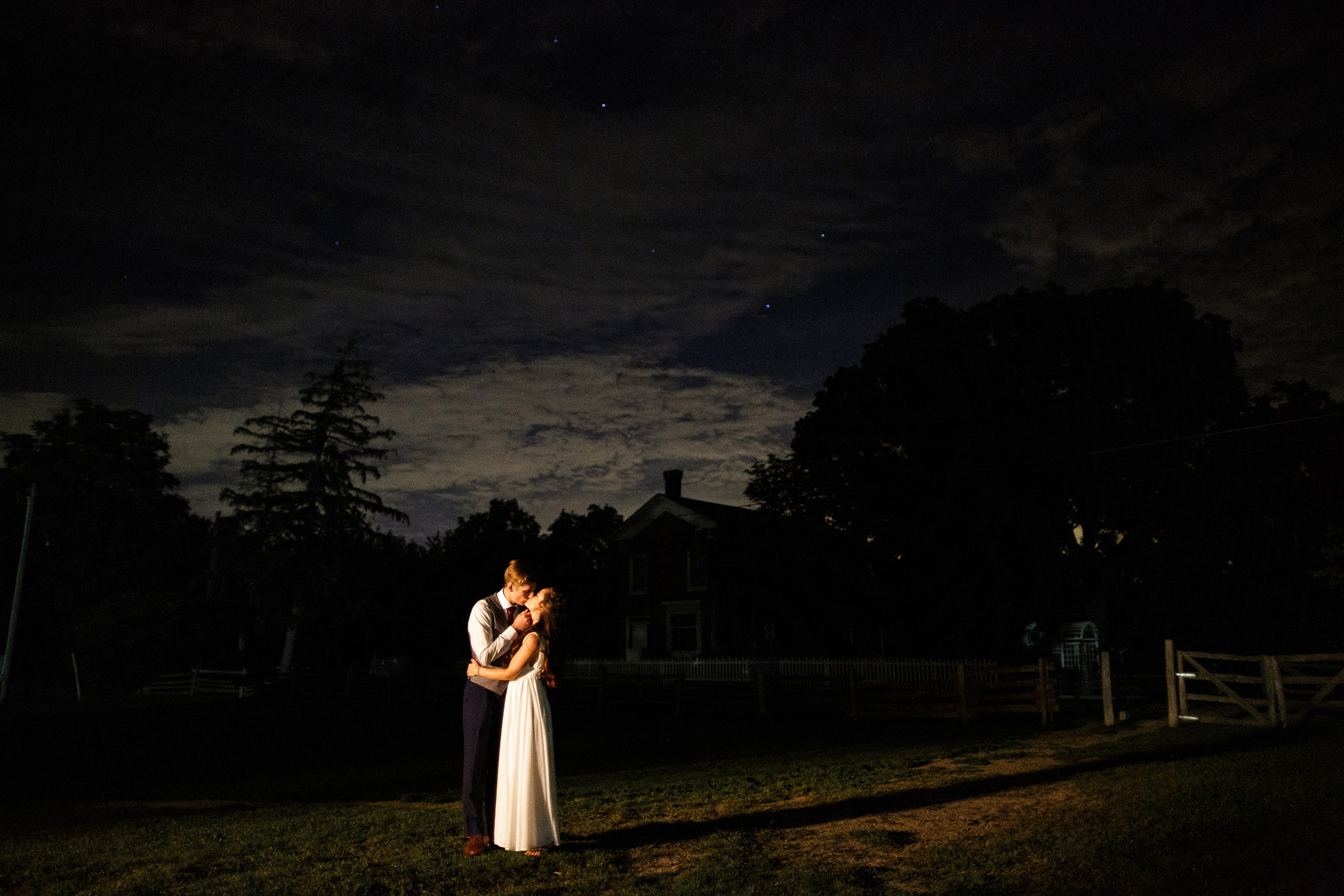 Wedding vendors featured in this review
Ball's Falls
Dirty Beats DJ
Southcoast Beauty
Honor Beauty
Brooker Events
Events By Kristin
Watering Can
Cathy Davis Wedding Officiants
Katherine Dimou
Oast House Brewery
A Night To Remember
Willow Cakes
Afterglow Images