Simple joys, cozy afternoons, and deep affection;
The tiny instants that, together, make you "us".
The twilight after a tropical sunset and the smell of smoky autumn leaves
and the cottage at summer's end.
Losing sense of time as hours and days drift away
in bliss with your true love.
A reassuring glance,
your evolution,
your dreams;
An intimate space known only to you and your love.
This is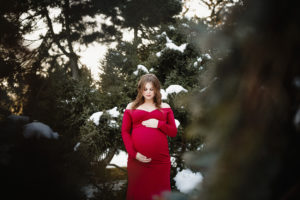 Against the stark tapestry of a cold winter, stands a primrose vision of one of life's most meaningful promises. Afterglow's full pregnancy beauty experience offers the means to showcase your changes: from the thick flowing hair and glowing complexion to the sensuous new curves. Outdoor winter maternity session in Niagara.
On your wedding day, I will be the friend that shares in your afterglow — not just a camera operator. I am the sole painter of the feelings and in-between moments that happen on your day. I even capture moments that you might not get to see with your own eyes. You are trusting me to still bring tears to your eyes in twenty or thirty years, when you look back at these pictures with your children and grandchildren.
This is why I am very particular. I shoot and edit every wedding myself because your story is not like the rest; it is personal and unique. Just as the weather and the light and the people are not the same on each wedding day, no two weddings are processed the same. You are not a trend. Your love is a timeless, precious heirloom.