Beautiful. Provocative. Meaningful.
What is Boudoir?
A boudoir session is more than simply a sensual photoshoot producing a collection of sassy photos intended arose the senses of the viewer. Although this is one obvious element to a boudoir session, it should really be more than that. A boudoir session is about connecting with who you are and preserving a glimpse of your natural beauty either for yourself or for that special someone who rarely gets to see you "from a distance". Sessions can be about feeling great and showing off what makes you beautiful, but it can also be a deeply personal experience where we explore what it means to be you.
Boudoir sessions typically take place in your own home but you can make a day out of it and host your sessions at a Niagara B & B, hotel, or even outdoors–there are lots of beautiful natural areas in and around the Niagara region, but I am happy to travel within Ontario. The location should ideally be a reflection of your own personality–a place where you can be the most honest version of you.
Whether the images will be a gift to yourself (perhaps to celebrate one of life's milestones) or a gift for that special someone, you will always look back at them fondly and perhaps view them of a reminder of who you really are.
Who is it for?
Boudoir is for everybody and every body.
Boudoir is for anyone who wants to feel good and feel confident.
A boudoir session for is someone celebrating a milestone birthday, a major life change, a new chapter, or for a bride-to-be. Maybe you would like to do a session as a gift for someone special. Maybe you just want to try something new and fun.
A session is about getting in touch with yourself, showcasing who you are, and radiating all that makes you shine. It's your chance for you to be you–and perhaps an opportunity for discovering something new and yet to be embraced.
Every person is rare. Every stage of life tells a different part of your story. Every boudoir session is a unique. If you're thinking about a boudoir session, it's not because you want to be someone else, it's because you are, or want to be, comfortable in your own skin.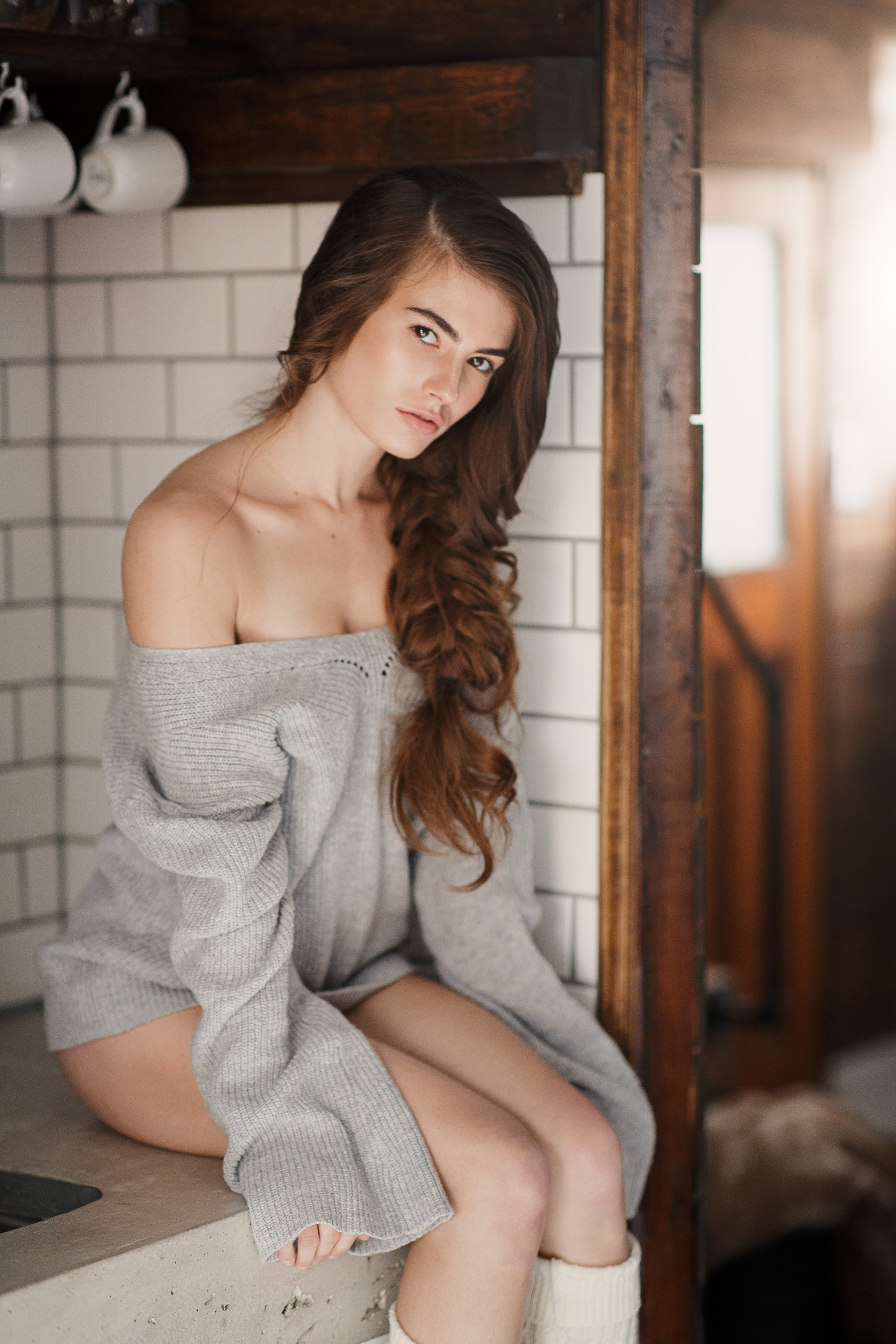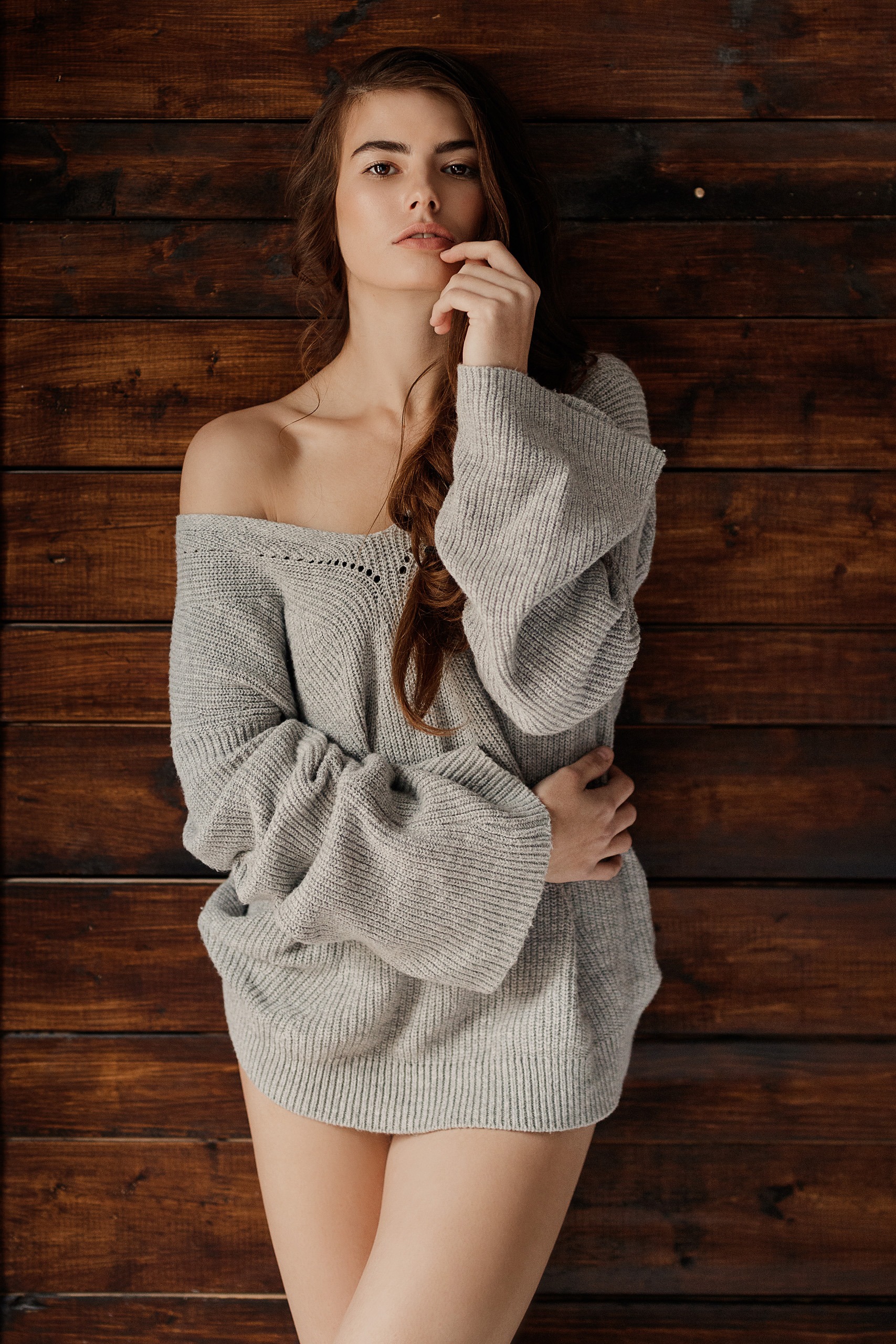 Why do a boudoir session?
Imagine doing a boudoir shoot to capture some images for that special someone. Yes, the photos will be hot and provocative. Yes, the photos will tantalize and intrigue. But these images will also represent something more than all of your outward beauty. These images will also reveal something nonphysical–an element of your personality and being. Something familiar to the viewer or yourself. Years from now, when you open this proverbial shoebox again, you want to be reminded of something about yourself–something constant that you have carried with you for your whole life. You want to see your inner self in those images.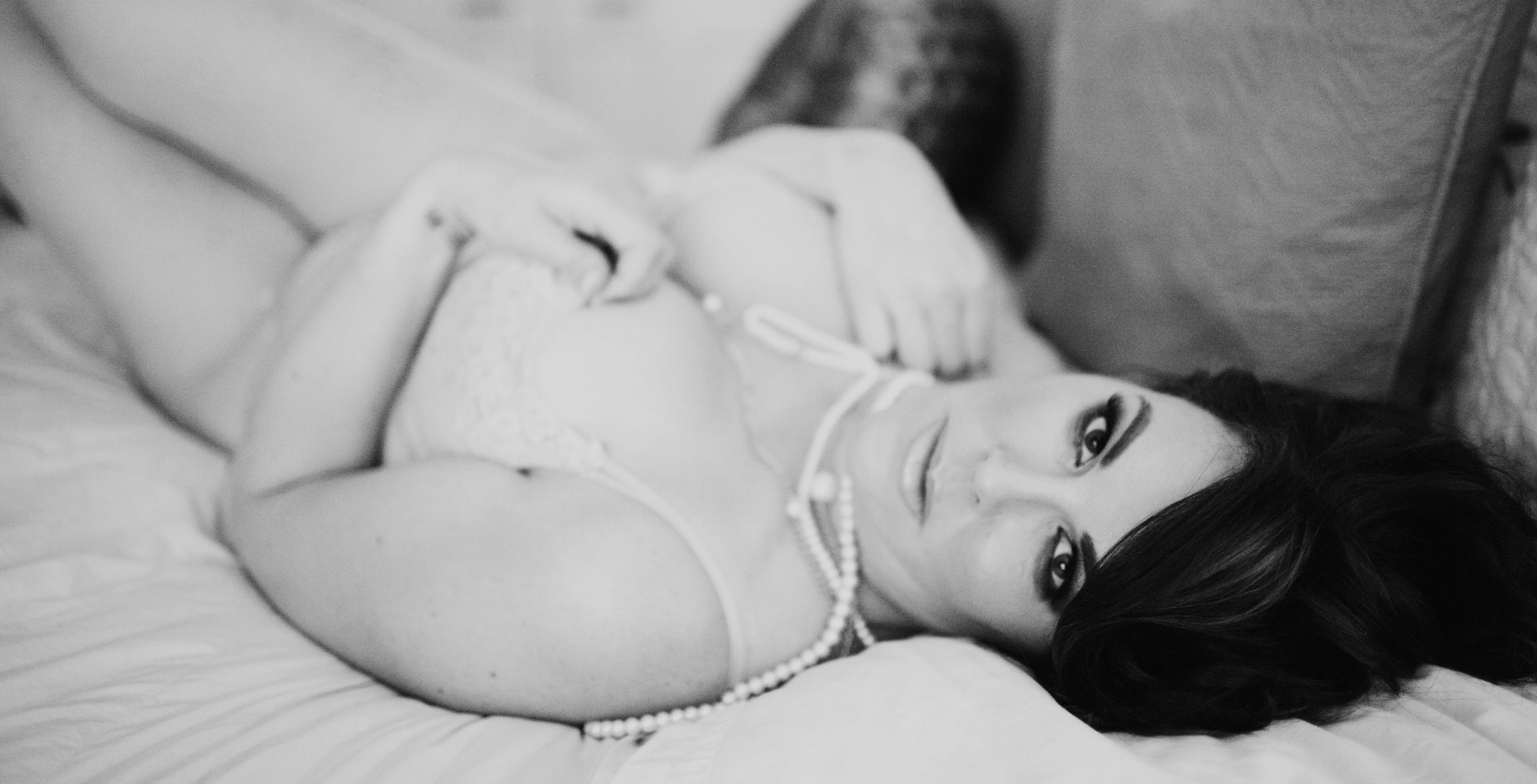 Bridal Boudoir
A little something for that special someone.
Build the anticipation and the excitement of the wedding day. The night before the wedding, gift some fine art or a beautiful handmade album to your partner. This will be all that occupies their thoughts before the big day. They will not see you again until you walk down the aisle and their heart and mind will be racing.
Show off that new lingerie set and maybe even wear the same set under your bridal gown on the wedding day. This will remind you of all the confidence you gained during your boudoir session and will also remind your partner of those incredible photos they already saw.
Invite your bridesmaids to make suggestions (or buy as gifts for you) some interesting lingerie ideas. Bring the wedding shoes you spent so much time searching for. Bring your veil. You could even bring your wedding gown–or just a piece of it. Unsure what to wear? Check out some other bridal boudoir sessions and get some ideas for what you can do.
A bridal boudoir photography session can be as much a gift for yourself as it is for that special someone. Embrace how beautiful you are and how beautiful your partner already sees you.
How to prepare for a boudoir session
When you sign up for a boudoir session with Afterglow, we will start planning out the overall look and mood of your session. Some things worth considering are whether you would prefer to keep it playful and light, or dark and sensual, or a mix of both. Location is one of the strongest contributors to the look of your session–a hotel, Bed and Breakfast, or even an outdoor location all have very different looks. I am most familiar with locations in and around Niagara, so I am happy to offer guidance as needed. But I encourage you to think about what might best represent your or at least where you would feel most comfortable. We can also work together to determine the best wardrobe options for you or you can bring some favourite pieces and we can mix and match at your session and let your mood guide you.
Hair and makeup is always recommended. Whether you do it yourself are take advantage of the incredible talent at your disposal through Afterglow, it does not have to be extreme or unnatural. The best results emerge when you feel like a polished version of yourself. I work with an incredible hair and makeup artist and she can help you achieve any specific look or style you would like to incorporate into your session.
Finally, ask questions. It's normal to feel nervous before any shoot, so ask any questions beforehand. But remember, you are always the one in control. I am simply a guide to help you look and feel your best.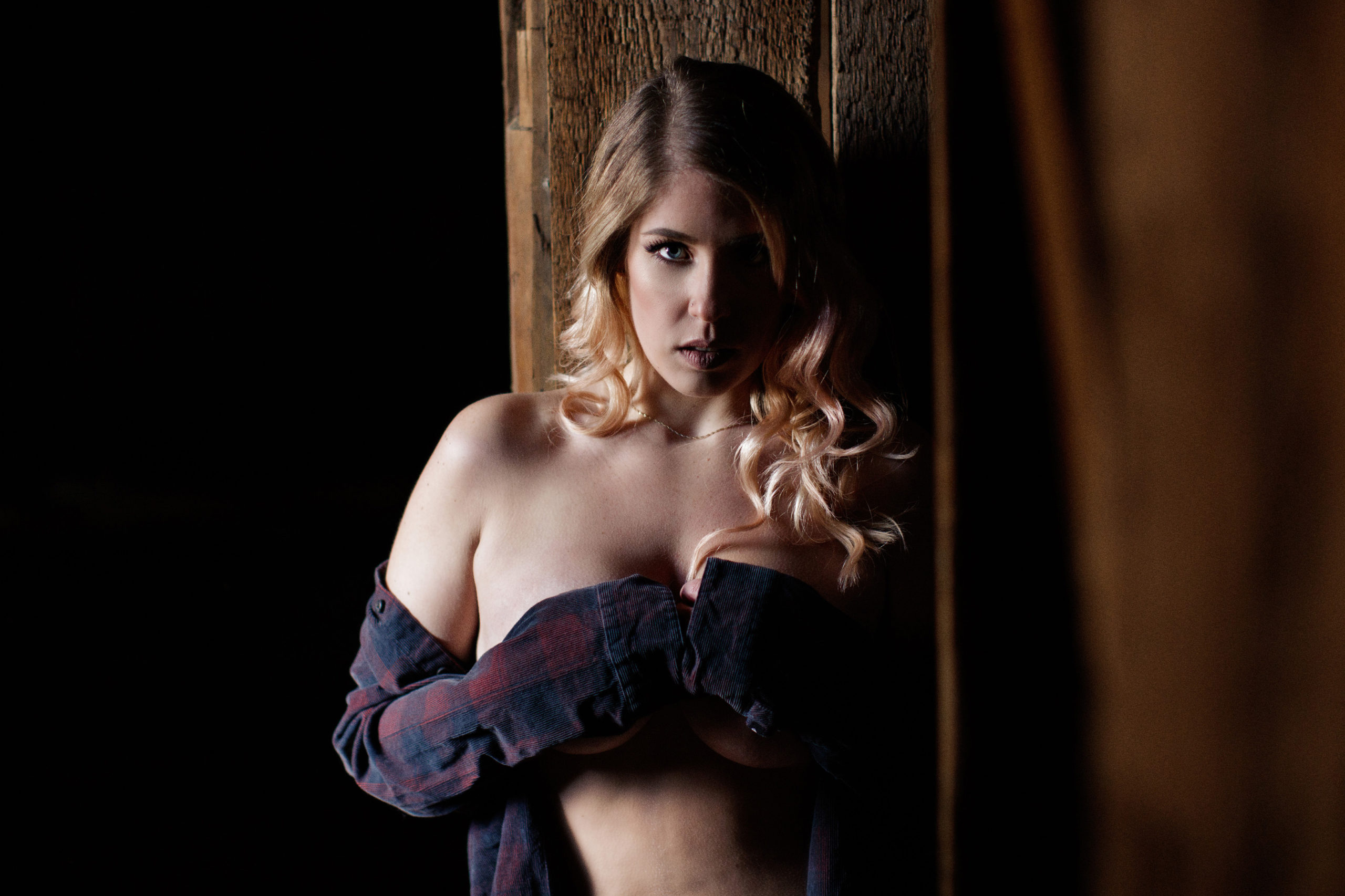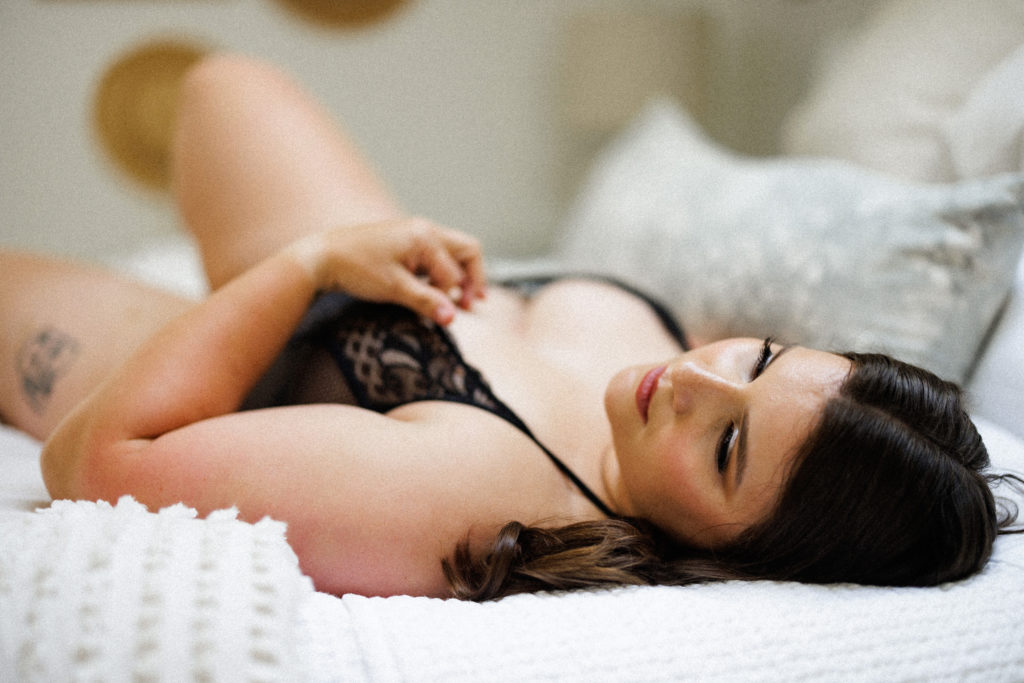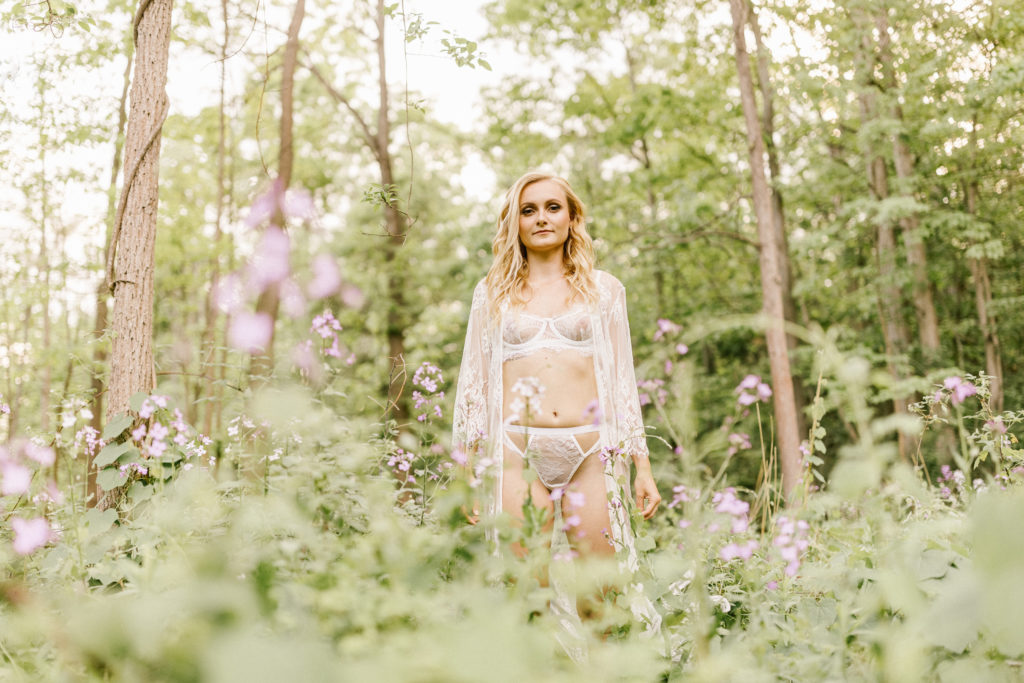 What to expect
Before your session, we will discuss your stylistic goals and vision, the reasons for doing a session, and possible locations that will suit your style. We can even chat over the phone to work out the details. We will also talk about how you would like to style your hair and makeup. You can also send along any images you have collected that you think would suit your style and preferences. I can steer the session in that direction.
When we meet up, we will start with hair and makeup during which time we will all take the opportunity to get to know each other and finalize the plan for your session. We will also review your outfit choices and arrange them in a way that will flow through the shoot. If you brought any accessories, we'll work out where they will fit best into the session.
Once we start shooting, I will offer as much or as little guidance as required. You will never feel judged or critiqued. This is a time to be true to yourself and not worry about what anyone else is thinking. Boudoir is for every body, and a session with Afterglow focuses on guiding you to feel and look your best. This time is for you. We will spend lots of time working together to establish all your best angles. As the session progresses, you will being the see the results of your efforts and you will gain confidence. By the end of your session, you will realize that any nervousness was unnecessary and that you are more beautiful than you ever thought.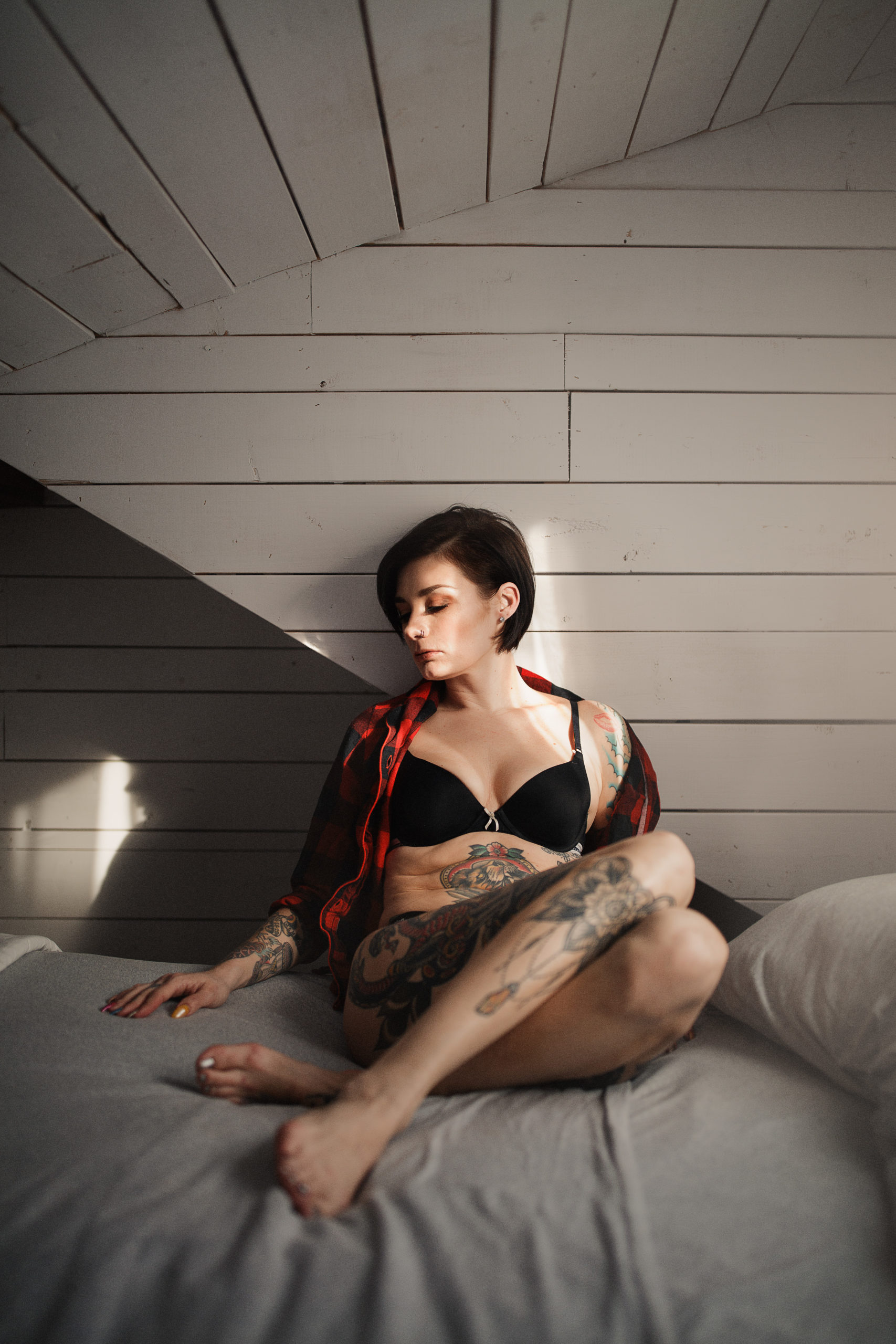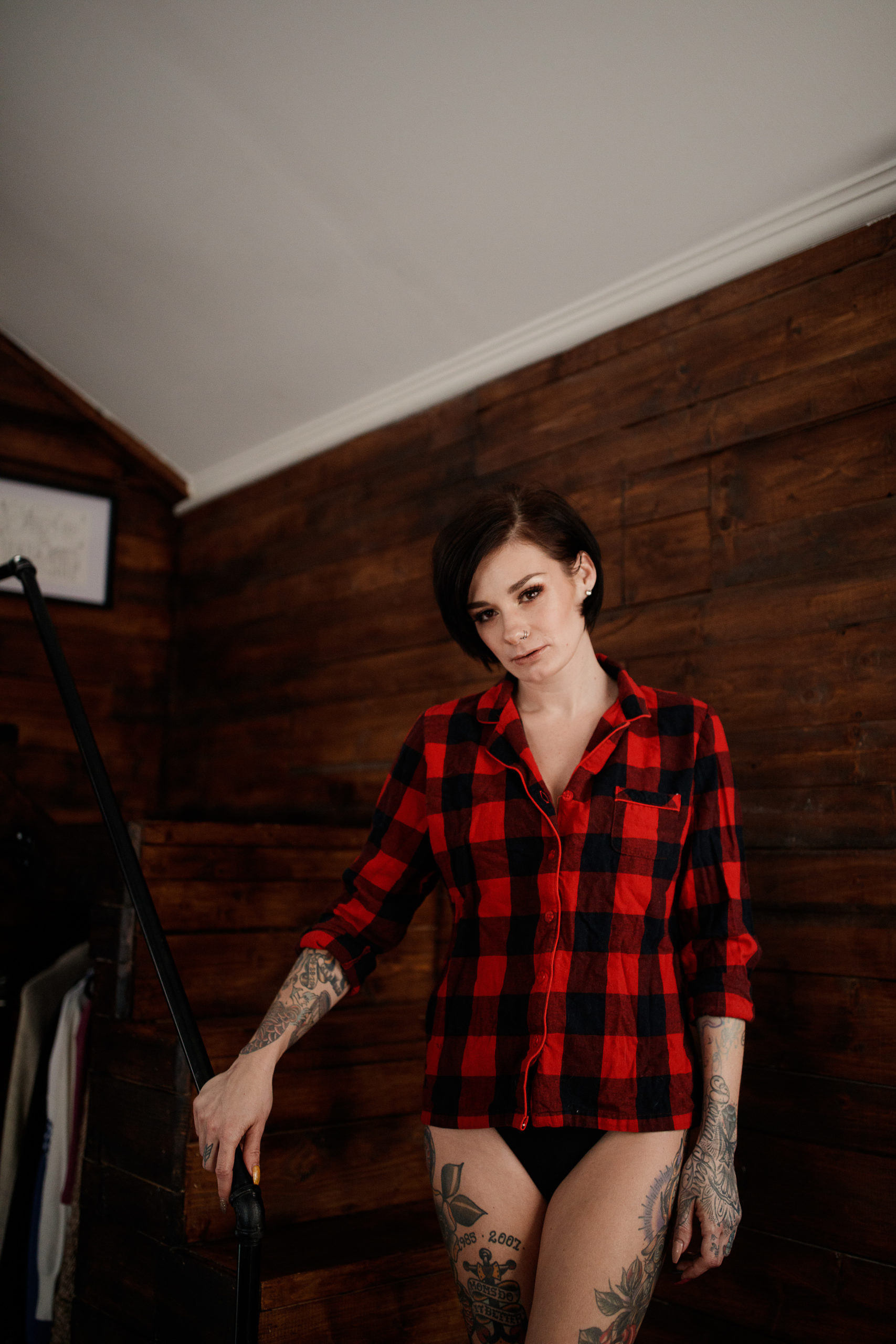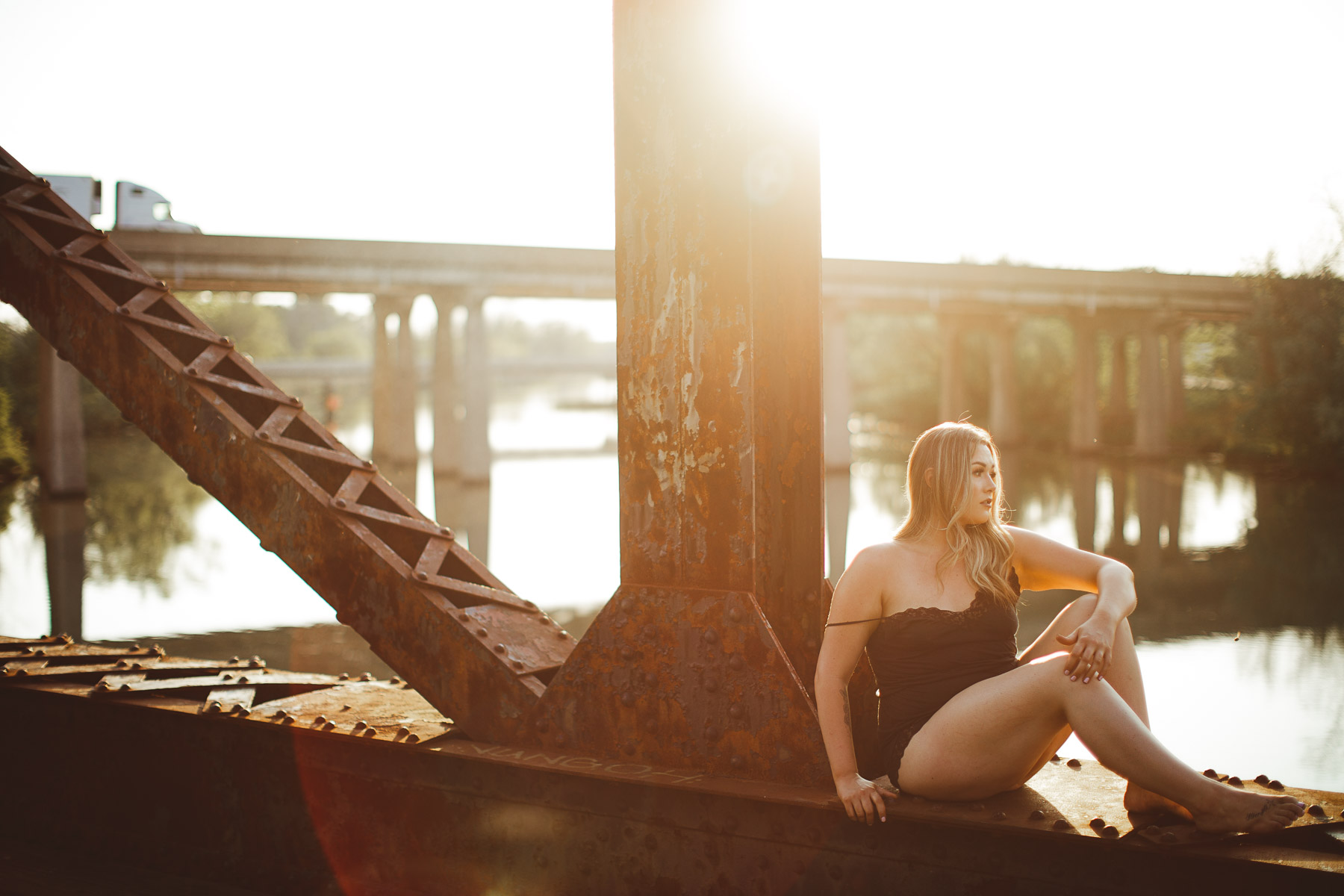 Packages
Limited-time reduced rates
Give yourself something to anticipate. Book now and shoot when you're ready (any time within 18 months).
If you are interested to shooting an outdoor session in Niagara, your session can be booked for any time. If you prefer to shoot indoors (e.g., a Bed and Breakfast or hotel), dates are very limited now given that we also need to coordinate a BnB. In some cases, shoots may be conducted at home, but will depend on the size of the room and the amount of available light.
Starter
Good things come in small packages
$350
One hour
At least 25 Hand-edited photos
Full resolution image files
Private online gallery
50% Deposit required
Session must take place within 18 months
The Top Drawer
Extended Session
$900
~ $1200 value ~
3 hours

Unlimited outfit changes
Professional hair & makeup artist
At least 80 Hand-edited photos
Full resolution image files
Private online gallery
Fine art 4×4 mini album
(handmade in-house)
50% Deposit required
Session must take place within 18 months
Quiver
Look beautiful and feel amazing
$600
~ $800 value ~
2 hours
Three outfit changes
At least 50 Hand-edited photos
Full resolution image files
Private online gallery
50% Deposit required
Session must take place within 18 months
The Complete Boudoir Collection
Have it all!
$1500
~ $2200 value ~
Pre-shoot style and vision consultation
4 hours
Professional hair & makeup artist
Unlimited outfit changes
Wardrobe accessories
Unlimited hand-edited images
Mix of digital and images captured on film
6×6 Handmade Fine Art Album
(or "shoebox" collection of 4×6 prints)
Full resolution image files
Private online gallery
*Bonus Instant Polaroids*
50% Deposit required
Session must take place within 18 months
The Girls' Getaway
Have it all!
$5000
~ $7000 value ~
Full day at a Niagara Bed & Breakfast
(Includes an overnight stay the night of your session)
6 hours
Professional hair & makeup artist
(for up to 4)
Unlimited outfit changes
Wardrobe accessories
Unlimited hand-edited images
Mix of digital and images captured on film
Four 4×4 Handmade Fine Art Albums
Full resolution image files
Private online gallery
*Bonus Instant Polaroids*
50% Deposit required
Session must take place within 18 months
Contact
Text anytime
905-964-9253
or
View more boudoir sessions in Niagara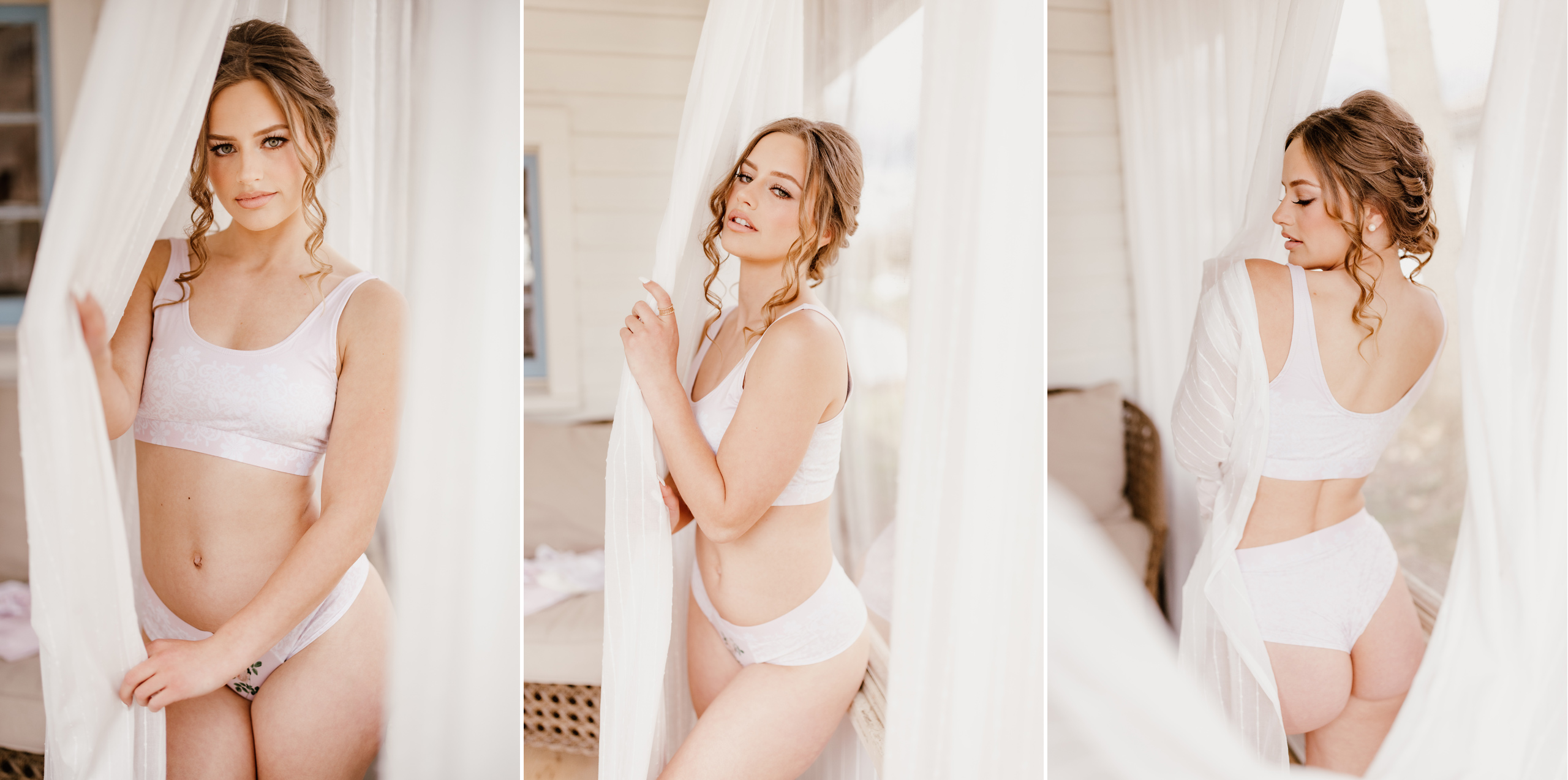 Frequently Asked Questions
I've never done a shoot before. How am I supposed to do this?
Relax. Everything will be much easier than you think. Many have some hesitations or concerns prior to do a boudoir session, but nobody ever regrets doing a session.
What should I wear?
Really, it's totally up to you and it will depend on the look(s) you are trying to achieve. Generally speaking, black and white will go with everything. But feel free to bring a few pops of colour. A snuggly gray sweater is often a good choice. If you're unsure, you can bring some items that you like and we can always mix and match at your session.
Can I bring a friend?
Absolutely. Bring along anyone who helps you feel confident. A boudoir session, however, is not a spectator sport, so be sure that anyone you invite along will be adding to your confidence and is somebody you are comfortable with. If you are interested in a girls' package (perhaps as a bridemaids' gift or as milestone birthday activity), then you may invite anyone else who would like to capture some photos too. Group rates will apply.
Do you offer group rates?
Yes. It can be a lot of fun to spend an afternoon in Niagara with your friends, drink some wine, eat some light snacks, and capture some gorgeous images to celebrate a milestone or special event. It is a very rewarding feeling to hear all the wonderful things your friends have to say about you. Having your best friends with you is also a great way to ease your nerves if you're a little unsure about yourself. A kind word from your BFF goes a long way.
A group package includes hair and makeup for anyone who wants it and separate boudoir sessions producing enough fully edited images to create an album for each person.
I don't like my _____. Do you "photoshop" the images?
All images are adjusted in some way (e.g., colour, contrast, and tone)–but always in a way that reflects who you are. You should see yourself reflected in an honest and beautiful way. You might even discover something new about yourself! We work together during the shoot to showcase all that makes you beautiful. When viewing your photos years from now, I want you to feel proud about yourself…not my photoshop skills. That being said, if you would like me to make an adjustment, I am happy to make you happy.
I'm ## years old. Isn't that too old for a boudoir session?
Only if you think it is. One of the most rewarding parts of shooting boudoir sessions is seeing the higher confidence everyone walks away with. I've hosted boudoir sessions for people of all ages, and every single session has been rewarding for everyone involved. At the risk of sounding cliche, "age is just a number." Every little scar, crease, or wrinkle is part of your history. A true sense of confidence will outlast any youthful appearance. Wear your confidence.
Will my photos be posted online?
No. Not without your permission. Any images you see here have been posted with permission. Your gallery of images will be provided on a secure, password-protected, gallery. To further preserve online privacy, I use only initials (sometimes a different one) and never names.
Do you offer hair and makeup services?
Yes. Although many clients opt to do their own hair and makeup, there's nothing like the work from a professional. I work with the same hair and makeup professionals on most of my sessions and editorial shoots. The results are always worth it. Plus, it's one less thing to worry about before your session. Just relax with some wine and let the professionals work for you.
Can I do my own hair and makeup?
Hair and makeup may be included in the session fee for some packages, but if you want to do it yourself, you can save on the total price.
Is it awkward posing for a male photographer?
No and yes. Is it awkward posing for a female photographer? No and yes. This question is probably best answered by you. In reality, it probably doesn't really matter who's behind the camera. Everyone starts a boudoir session feeling nervous. As the session progresses and you start to see how it's all working, the nerves go away and all you're really focused on is how amazing you feel and look. By that point, it could be any person behind the camera. What's more important is that the person behind the camera has genuine interest in guiding you to look and feel your best. When you're looking at your photos, you're going to remember you.
Trust is also a big part of a boudoir session. As a successful wedding photographer, many brides, grooms, and families have placed their trust in me to capture and preserve a once-in-a-lifetime event in a way that elicits the same emotions felt on the day all over again when finding the photos again years later. Wedding clients trust that I will preserve fleeting moments of sheer joy while helping them forget any of the stresses that occur at every wedding. In a similar way, boudoir clients trust that I will guide them and capture the elements that make them beautiful while helping them forget about the nervousness felt at the beginning. Trust is earned by the person, not the gender.
The latest on Instagram
Boudoir photographer based in Niagara, also serving Chippawa, Hamilton, St Catharines, Fort Erie, Welland, Toronto, and southern Ontario.
Body positive and understanding. Celebrating women of all shapes, sizes, and ages.